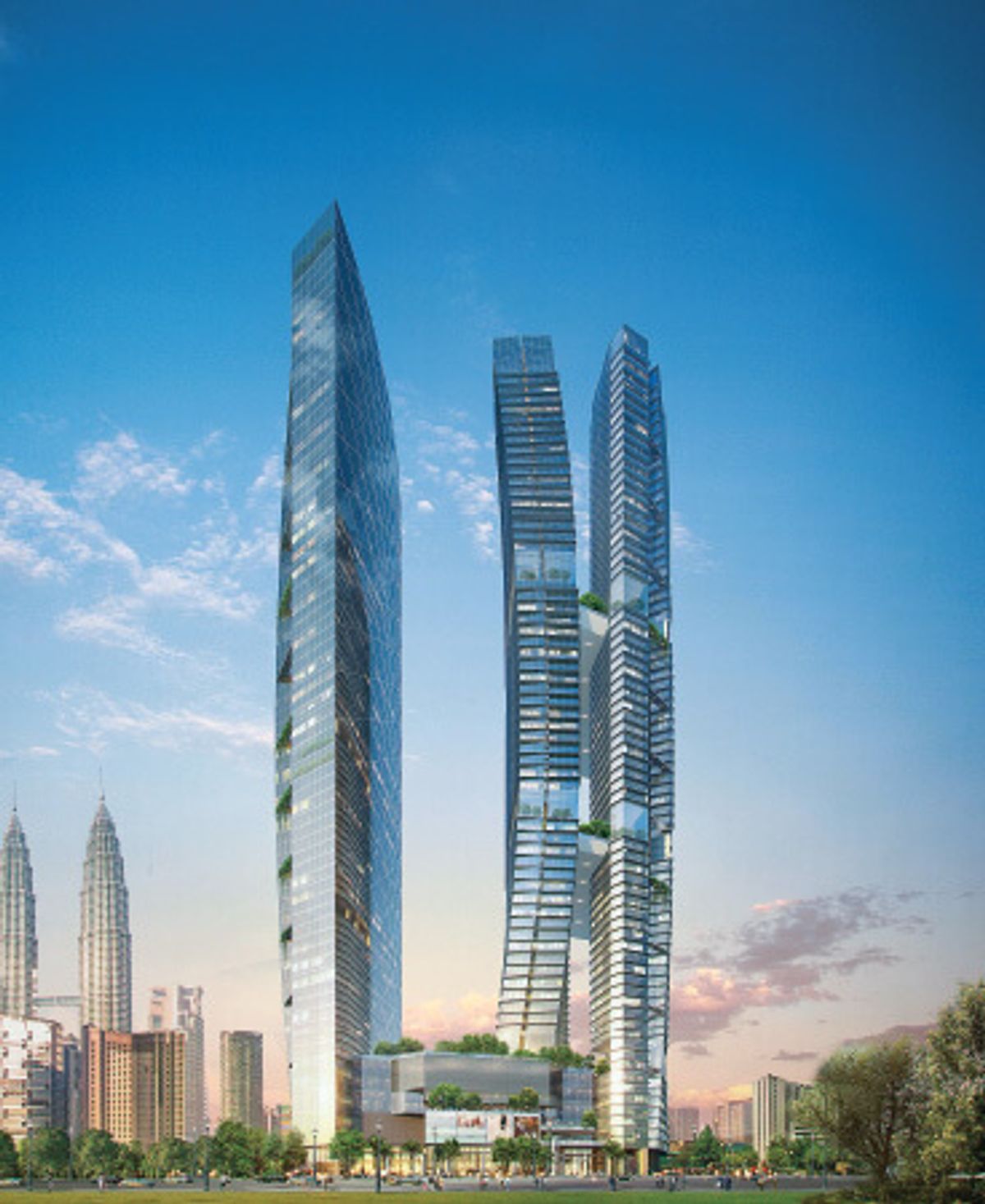 8 Conlay, features interior designs by Kelly Hoppen (Tower B) & Steve Leung (Tower A)
My first impression of long-time friends and collaborators Kelly Hoppen and John Hitchcox is that they could not be more different.
Hoppen, one of the most celebrated and sought-after interior designers in the world, is direct and articulate. Even dressed casually in a floral dress, jacket and white sneakers, she exudes an air of sophistication and elegance and is easily the most-put-together person in the room.
In sharp contrast, Hitchcox, a famous international property entrepreneur, seems to have a mind that runs a mile a minute, resulting in a tendency to ramble — something that Hoppen pokes fun at. Unshaven with messy hair and dressed in a blue button-down shirt, he looks scruffy yet smart at the same time.
As we — a group of journalists from Malaysia, Singapore and Hong Kong on a media trip to London — listen to the duo talk about their work, it becomes clear that they share the same passion for and vision of design, not to mention a wicked sense of humour.
The media trip was organised by property developer KSK Land in support of its maiden project, the luxury integrated development 8 Conlay in the Kuala Lumpur city centre. KSK Land is part of KSK Group Bhd.
Kelly Hoppen for YOO is doing the interior design for Tower B of the branded serviced residences. International design firm YOO was co-founded by Hitchcox and ubiquitous designer Philippe Starck. One of the world's leading architects and designers, Steve Leung did the interior design for Tower A.
Also present at the interview is KSK Group executive director and CEO Joanne Kua.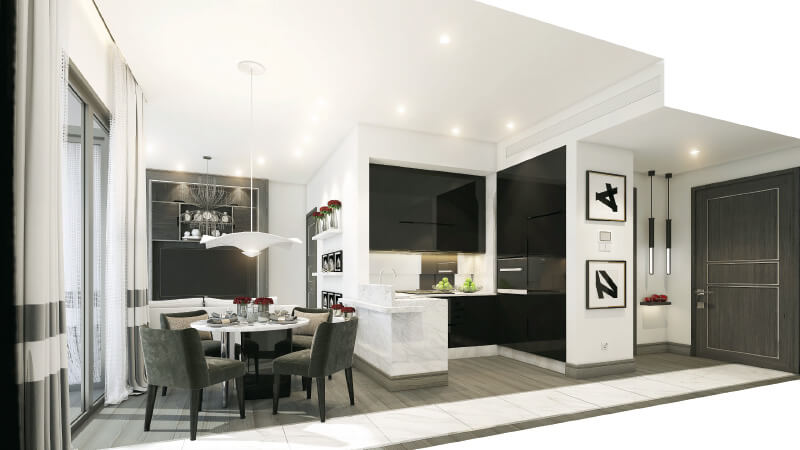 The creatives
Born into a family of creatives — the highly respected architect Brian Hitchcox is his father — Hitchcox started young in the business. At 19, he built his own house in South London.
In 1991, he co-founded the Manhattan Loft Company, which introduced the loft concept to the London market. These are living spaces carved out of post-industrial buildings.
The seeds of his partnership with Starck were planted when Hitchcox visited the Delano South Beach Hotel in Miami and was bowled over by the former's design.
"Long story short, I told Starck, 'You design furniture, fittings and such but you have never done a home. So, why don't we work together to build homes?' That's how YOO was born. The idea was to work with great developers and like-minded people around the world to enhance the opportunities, value and customer lives through designs and placemaking," he says.
Some 20 years on, YOO is now the largest residential design and development brand in the world with 82 projects in 57 cities in 34 countries. Among its collaborators are Marcel Wanders, Jade Jagger, Leung, Anouska Hempel and, of course, Hoppen."Two decades ago, people were so resistant to the word 'brand'. Even to me, it meant McDonald's or baked beans. Now, brand has become a clear identity of what you wear or drive and branding has arrived at homes. And there are very few people [and companies] that do what we do.
"Big passion and fun have taken us to crazy
places around the world. Interestingly, Starck was kind of our anchor designer and he said to me, 'I'm not the only person with a particular style; you should work with other designers'. And that's how we have taken all our projects through all these years," says Hitchcox.
Hoppen's story is equally inspiring. She started her business at the tender age of 16 when she designed the kitchen of a family friend. Today, she is one of the world's most influential style gurus. Some of her most famous works include the British Airways first-class cabins, the Royal Mougins Golf Club in the south of France, Rhodes W1 Restaurant in London and boutique hotel Murmuri in Barcelona. She has also done the interior design of the homes of celebrities around the world, including England's David and Victoria Beckham.
Hoppen was awarded an MBE for her work in interior design in 2009. She has also expanded into TV and film, and played a cameo role in the movie Absolutely Fabulous that starred Jennifer Saunders and Joanna Lumley. She invested in BBC Two's hit show Dragon's Den as well and appeared in BBC Two's The Great Interior Design Challenge as a judge.
In 2014, Hoppen launched her online store,
kellyhoppen.com, featuring a range of affordable luxury home products. She is also an ambassador for the Prince's Trust, a youth charity that helps those aged 11 to 30 to get education, training and jobs. Early this year, she was named an ambassador for Cool Earth to help stop rainforest destruction and halt climate change.
Being dyslexic, Hoppen hated school and all she wanted to do was to leave and start her own business, which was also fuelled by her passion for design.
"My passion is designing homes. At a very young age, while other children were out playing, I loved going to show apartments with my mum. I wanted to see the before and after, and I was intrigued by the way people lived.
"I was fortunate to have been brought up in a household where my parents enjoyed holding lunch and dinner parties. I have met artists, poets, chefs and the like. This kind of world that uses your home as a way to communicate and live really appeals to me," she says.
After 41 years in the business, Hoppen says she still bounces out of bed every morning, eager to start designing, much to her surprise.
Creating modern villages
8 Conlay sits on a 3.952-acre freehold plot in Jalan Conlay, Kuala Lumpur, and has a gross development value of RM5.4 billion. It comprises two towers of branded residences and one tower of hotel and hotel suites as well as a 9-storey retail podium.
The branded residences — called YOO8 — and the hotel will be serviced by Kempinski Hotels. The 121-year-old Kempinski is Europe's oldest luxury hotel group and currently operates 75 five-star hotels and residences in 30 countries.
Tower A of 8 Conlay was launched in 2015 and its interior was designed by Steve Leung. Tower B will be launched this month.
For KSK's Kua, YOO was the only choice. "We didn't consider any other companies. We were very specific and knew what we wanted. We wanted people who understood branded residences around the world and understood that designing spaces for branded residences was about allowing like-minded people to come together in a vertical space.
"When we got in touch with YOO, the company fully understood this. We spoke the same language. One of the reasons we love YOO is that it was founded on a very unique proposition that brings together the world of property development and design and it has an array of celebrity designers. You go to one firm and you have all these creative minds coming together," she says.
"When I was born, there were two to three billion people in the world. Today, there are seven billion. Some 200 years ago, people were born, married and lived their whole lives in villages because it was hard for them to move around. Today, places like 8 Conlay are being created based on this village concept and people are choosing to live in them. They know 8 Conlay has a great design and developer, and Kempinski is there as well.
"Hoppen has a particular type of design that attracts a particular type of people. So, you will be moving into a village of like-minded people. The chances are you will become friends with your neighbours and find that your aspirations are similar," says Hitchcox.
Hoppen believes that with this collaboration and with others, what they have done is create something that is new and takes people out of their norm. These are people who have made some money and want to buy into a certain lifestyle.
She has designed two themes for Tower B — Spring and Urban. The built-ups of the units are the same as those of Tower A — 700 to 1,308 sq ft. According to Kua, Tower A was launched at RM2,700 psf but the price has since increased to RM3,200 psf. KSK Land plans to launch Tower B at RM3,250 psf.
"Leung designed Tower A offering two themes — Wood and Water. Being Asian, he understands how we live. As for Hoppen, we really love her East meets West philosophy and how she sees things are formed. It is about creating these practical villages; it is a lifestyle. Even in KL, people are all for this concept of having a vertical community where you can have time for yourself and when you feel like it, socialise with others," says Kua.
Hoppen's first bestseller, East Meets West: Global Design for Contemporary Interiors, was published about 21 years ago and is still very much relevant today.
"The world is getting smaller and the design for me was taking East and West and putting them together. Of course, we design specifically for a market. When you're designing an apartment for New York, you have to know that it is a bustling city and has a very different way of living compared with Kuala Lumpur. What we have done, as we had done for so many other projects, is to look at who the buyers will be and take a bit of the whole world and put it into the design.
"For me, it's instinct. I'm looking to the future, the demographic of the people who will live there. I look at it as a global design and take elements of Paris, New York and London and such, create a harmonious design and put it in one space.
"People are buying into this kind of urbanisation, the type of living where their children can grow up. What's interesting today is a lot of friends want to buy houses where their friends live. So, I think everybody wants to create a community and that is what 8 Conlay has done. The spaces are not as big as some of the homes I have done but that doesn't mean you can't create timeless luxury in a neutral way. So when they move in, they can create their own identity and learn to live in a way that made them and let their children grow in their lives," says Hoppen.
For Hitchcox, creating a community is a beautiful thing and goes beyond just people being friendly to each other. "I have seen some really beautiful examples and some sad ones too. There was one where a tenant got sick and the community she lived in came together to find the right person to look after her, and she eventually got better. In one of our projects in Miami, three guys with nothing in common — a rapper, a musician and an accountant — would meet on Monday evenings to watch American football in the club room downstairs. That is what a community can do."
Building in Asia
8 Conlay is Hoppen and YOO's first project in Malaysia but the designer has always had a passion for Asia.
"I have had this passion for Asia since I was young. I was astounded by the brilliance in Asia and how my design could be interpreted to such perfection. People always ask me why I like to work in Asia. It's because Asians really respect you, your design and concepts, and they want to create something. Hitchcox and I have worked in countries where, frankly, that doesn't happen. I'm in a really lovely position where I can choose what projects to take on. I have never worked in KL but I have always wanted to work here. I love the project and that Leung, who's a great friend, is also involved.
"I do think you get a sense when you meet and talk to people about whether something will work and whether you are able to create something that has never been done before in the area. That's always the challenge and always good because I have done so many projects and if you keep doing the same thing, it becomes quite boring. I think we set out as a company — Kelly Hoppen — to achieve something different here and we definitely did that. That's a good feeling," says Hoppen.
She is very confident that the project will sell as she notes that she has never taken on a project that she didn't believe would be successful.
"It's the power of attraction, all of us coming together. If your mindset and vision are focused on success and all your goals are the same, and if you start with positivity from day one, your project will be successful. It is as simple as that. Of course, along the way, you will have problems with the contractors or budget but that is for the business people to figure out. We are creatives," says Hoppen.
As for her design process, Hoppen says, "The truth is that you come up with names, whether it's Spring or Urban, but they are just names. The reality is that it is kind of a selling tool. I design in a space and I close my eyes and visualise working through that space — sleeping, waking up, watching television, seeing the marble of the back wall and such. That's what I'm interested in because I know how that pleases me.
"What I want to do is try to create what I visualise. After 41 years, I have been successful and I know all these little elements are going to make people feel and go, 'Wow!' I don't just have a wooden floor, I have designs on the floor. There are details on the door or there's texture on the kitchen wall. All of these things, for a buyer who has never experienced them, can be a big moment.
"My house, where I have lived for three years, is the best home I have ever had. Every time I walk through the door, I feel happy. If I could recreate that feeling for someone I have not met and might never meet, I'm happy," says Hoppen.
She is full of praise for Hitchcox, calling him "incredibly selfless".
"One of his strengths is that he is no control freak. When he decides to work with creatives, he allows them to be creative," says Hoppen.